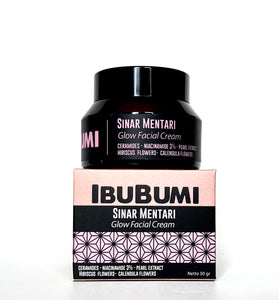 Sinar Mentari Glow Facial Cream
Regular price
Sale price
350.000,00
---
Experience the ultimate indulgence with IbuBumi's Sinar Mentari Glow Facial Cream. This opulent and deeply hydrating cream is enriched with a blend of nourishing ingredients including ceramides, hyaluronic acid, pearl, calendula, and hibiscus extracts. Immerse your skin in luxury as this cream works to restore and strengthen your skin's natural protective barrier, leaving you with a soft, supple, and radiant complexion.
Elevate your skincare routine and embrace the beauty of naturally glowing skin with Sinar Mentari Glow Facial Cream from IbuBumi.
Sizes
50 g
Suits
Tired skin
Feels
Hydrated &Glowing
Actives       
Sinar Mentari Glow Facial Cream active ingredients are carefully selected for their skin glowing properties.
Ceramides: These essential lipids restore the skin's natural protective barrier, shielding it from environmental pollutants and preventing moisture loss. This barrier helps keep the skin healthy, hydrated, and glowing.
Niacinamide 3%: Working in harmony with ceramides, niacinamide stimulates collagen production, reduces pore size, and calms redness, resulting in smoother and more even-looking skin.
Squalene: strengthens the skin's barrier function and helps it retain moisture, keeping the skin hydrated and supple.
Hyaluronic Acid: This powerhouse ingredient plumps and hydrates the skin by attracting and retaining moisture, improving skin elasticity and giving a youthful appearance.
Shea Butter: Enriched with vitamins A, E, and F, shea butter nourishes and moisturizes the skin. It provides anti-aging benefits by reducing the appearance of lines and pigmentation, leaving the skin smooth and rejuvenated.
Aloe Vera Leaf: With its natural hydrating properties, aloe vera leaf moisturizes the skin and reduces the appearance of blemishes and wrinkles, promoting a clearer and more youthful complexion.
Pearl Extract: Works wonders for the skin by shrinking pores, reducing redness, improving skin texture, and evening out the overall tone, revealing a smoother and more radiant complexion.
Hibiscus Flowers: Nature's hydrator, lifter, exfoliator, and tightener, hibiscus flowers provide multiple benefits for the skin, including hydration, lifting, gentle exfoliation, and firming.
How to use
Apply morning & night to a clean face, neck & décolletage.
Ingredients
Aqua Demineralisata, Simmondsia Chinensis (Jojoba) Seed Oil, Hibiscus Sabdariffa Flower, Cera Alba, ButyrospermumParkii (Shea) Butter, Niacinamide, SorbitanOlivate, CetearylOlivate, Ceramide NP, Ceramide AP, Ceramide EOP, Phytosphingosine, Sholesterol, Sodium Lauroyl Lactylate, Caromer, Xantham Gum, Propanediol 1,3, Cetearyl Alcohol, Pearl Extract, Panthenol (Provitamin B5), Squalene, Calendula Officinalis Extract, Hyaluronic Acid, Aloe Barbadenis Leaf Juice Extract, Benzyl Alcohol, Benzoic Acid, Dehydroacetic Acid, Sodium Citrate, Citric Acid, Topopherol (Vitamin E), Lavendula Angustifolia (Lavender) Oil, Copaifera Officinalis (Balsam Copiaba) Resin, Boswellia Serrata (Frankincense) Oil, Geraniol, Linalool.