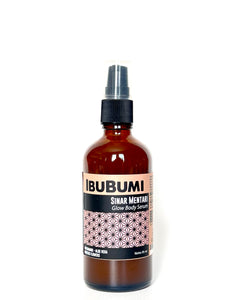 Sinar Mentari Glow Body Serum 100 ml
Regular price
Sale price
130.000,00
---
Experience the transformative benefits of IbuBumi Sinar Mentari Glow Body Serum in your skincare routine as it targets sunspots, discoloration, and crepey skin. This luxurious serum nourishes and hydrates your skin, improving tone and enhancing elasticity for a more radiant and youthful complexion. Incorporate this exceptional serum into your daily routine and indulge in its luxurious feel, as it works to restore and maintain skin health, leaving you with firmer, suppler skin that radiates vitality.
A hydrating nourishing body serum made with 5% niacinamide, 5% d-panthenol, aloe vera & hibiscus flowers.
Sizes
100 ml
Suits
Dry, normal & combination skin.
Feels
Toned & tight.
Actives
Niacinamide, D-Panthenol, Aloe Vera & Hibiscus.
Hibiscus Flower is a botanical ingredient that offers numerous benefits for the skin. It is abundant in vitamin C and beta carotene, which work together to stimulate the natural production of collagen in the skin. Collagen is a vital protein that contributes to the skin's firmness and structure. As we age, collagenase, an enzyme that breaks down collagen, becomes more active, leading to a loss of firmness and elasticity in the skin. However, hibiscus contains an antioxidant called myricetin, which helps to suppress the activity of collagenase. By reducing collagenase activity, hibiscus helps to maintain the strength and firmness of the skin, keeping it resilient and youthful.
In addition to its collagen-boosting properties, hibiscus is also a natural source of alpha hydroxy acids (AHAs). AHAs are gentle exfoliants that help to remove dead skin cells, unclog pores, and promote the regeneration of new skin cells. This exfoliation process helps to brighten the skin, even out the complexion, and reduce the appearance of age spots and discoloration. By encouraging skin renewal, hibiscus contributes to a more youthful and radiant appearance.
Hibiscus flower in IbuBumi skincare formulations brings multiple benefits, including collagen stimulation, collagenase inhibition, gentle exfoliation, and skin brightening. By harnessing the power of this botanical ingredient, skincare products can effectively promote a healthier and more youthful complexion.
Niacinamide, a form of vitamin B3, offers multiple benefits for the skin. At a concentration of 5%, it promotes the production of keratin, a protein that keeps the skin firm and glowing. Niacinamide also minimizes redness, reduces the appearance of pores, lightens hyperpigmentation and sunspots, and protects against sun damage. With its versatile properties, niacinamide is an effective ingredient for minimizing fine lines, wrinkles, and achieving a more even skin tone. Embrace the power of niacinamide to enhance your skincare routine and enjoy a healthier, more radiant complexion.
D-Panthenol, also known as vitamin B5, is a key ingredient that provides numerous benefits for the skin. With a concentration of 5%, it plays a crucial role in improving skin hydration, elasticity, and overall smoothness. D-Panthenol works by attracting and retaining moisture, helping to keep the skin well-hydrated and plump. This enhanced hydration contributes to improved skin elasticity, making it more resilient and supple. Additionally, D-Panthenol helps to maintain a smooth and soft complexion by promoting the regeneration of skin cells and supporting the skin's natural barrier function. Embrace the nourishing effects of D-Panthenol to achieve healthier, more youthful-looking skin.
Aloe Vera Leaf, a botanical ingredient that offers exceptional benefits for the skin, including its ability to support the skin's natural production of collagen. Collagen is a crucial protein that provides structural support, strength, and elasticity to the skin. As we age, collagen production naturally declines, leading to the appearance of fine lines, wrinkles, and sagging skin. Aloe Vera contains compounds that stimulate fibroblast cells, which are responsible for producing collagen. By promoting collagen synthesis, Aloe Vera helps to improve the skin's firmness and elasticity, reducing the signs of aging and promoting a more youthful complexion. Embrace the power of Aloe Vera to support your skin's collagen production and maintain a healthier, more vibrant appearance.
How to use
After cleansing & exfoliating with IbuBumi Red Rice Bar, smooth Sinar Mentari Glow Body Serum over the body focusing on areas of concern. Wait a minute or two & follow with Sinar Mentari Golden Glow Body Oil for hydrated glowing results.
Use morning & night.
Ingredients
Water (Aqua), Niacinamide 5%, D-Panthenol 5%, Sodium Lactate, Hydroxyethyl Urea, Proanediol1,3, Betaine, Xanthan Gum, Allantoin, Aloe Barbadensis Leaf Extract, Lactic Acid, Polyquaternium 7, Polysorbate 80, Hibiscus Sabdariffa, Boswellia Carterii (Frankincense) Oil, Lavandula Angustifolia (Lavender) Oil, Copaifera Officinalis (Balsam Copaiba) Resin, Pelargonium Graveolens (Geranium) Oil, Tocopherol (Vitamin E), Potassium Sorbate, Sodium Benzoate, Linalool, Geraniol.