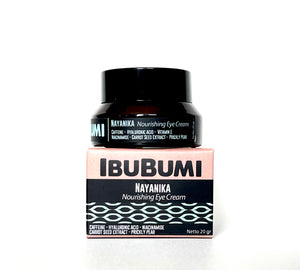 Nayanika Nourishing Eye Cream
Regular price
Sale price
250.000,00
---
Nayanika Nourishing Eye Cream by IbuBumi. A truly transformative solution for your delicate eye area. This caffeine-infused formula targets puffiness, dark circles, fine lines, and wrinkles. It nourishes and moisturizes the delicate eye area, while also providing a boost of hydration for a plump and revitalized look.
No parabens, phthalates & artificial fragrances.
Nayanika Nourishing Eye Cream by IbuBumi features a powerful blend of active ingredients, including 3% caffeine, hyaluronic acid, vitamin E, niacinamide, carrot seed extract, prickly pear extract, and shea butter. These ingredients work together to target puffiness, dark circles, and signs of aging, while providing hydration and nourishment to the delicate eye area.
Size
20 gr
Suits
Tired puffy eyes
Feels
Radiant &refreshed.
Actives
Caffeine 3%, Hyaluronic acid, Vitamin E, Niacinamide, Carrot Seed & Prickly Pear Extract & Shea Butter. 
Caffeine 3% naturally constricts the blood vessels & helps reduce inflammation & puffiness. Plus brightens & tightens, reducing wrinkles & visibly smoothing the delicate eye area.
Hyaluronic Acid keeps the eye area happily hydrated.
Vitamin E moisturizes & nourishes. Plus reduces hyperpigmentation (dark circles) & wrinkles.
Niacinamide fades dark circles & smooths wrinkles.
Carrot Seed Extract boosts collagen production increases cell turnover rate firms & brightens.
Prickly Pear, a naturally hydrating & skin nourishing extract. A natural form of Vitamin K that brightens dark circles underneath the eyes & improves skin elasticity. Rich in vitamin E, omega-6 & -9. High in amino acids thus stimulating collagen production & cell turnover.
Shea butter is enriched with vitamin A, E & F. Nourishes, softens & plumps the eyes, provides anti-aging benefits by reducing lines & pigmentation.
How to use
Apply morning & night by stippling a small amount around the delicate eye area.
Ingredients
Aqua Demineralisata, Simmondsia Chinensis (Jojoba) Seed Oil, Cera Alba, ButyrospermumParkii (Shea) Butter, SorbitanOlivate, CetearylOlivate, Propanediol 1,3, Niacinamide, Caffeine, Daucuc Carota Extract, Opuntia Ficus Indica Extract, Panthenol (Provitamin B5), Chamomilla Recutita Leaf, Aloe Barbadenis Leaf Juice Extract, Benzyl Alcohol, Benzoic Acid, Dehydroacetic Acid, Caffeine, Allantoin, Xanthan Gum, Topopherol (Vitamin E), Hyaluronic Acid, Lavendula Angustifolia (Lavender) Oil, Santalum (Sandalwood) Oil, Foeniculum Vulgare Oil, Calendula Officinalis Flower, Linalool.