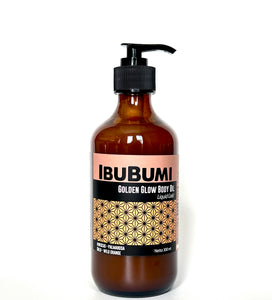 Golden Glow Body Oil 300 ml
Regular price
Sale price
740.000,00
---
Liquid gold. Indulge in IbuBumi luxurious Golden Glow Body Oil, a blend of golden jojoba, sweet almond oils, hibiscus, palmarosa, and wild orange. This exquisite oil naturally renews skin cells, repairs damaged tissue, and reveals a flawless and radiant complexion. Experience the transformative power of this nourishing oil as it deeply hydrates and leaves your skin supple, glowing, and non-greasy. Massage it onto your body for a truly indulgent experience and embrace the natural beauty it brings to your skin.
Indulge in the golden benefits of IbuBumi Golden Glow Body Oil and experience luminous, nourished, and rejuvenated skin.
Sizes
300 ml
Suits
Everyone
Feels
Glowing, hydrated & non greasy.
Actives
Golden Jojoba Seed, Sweet Almond, Hibiscus Flower, Palmarosa Petal, Wild Orange Blossom.
Golden Jojoba seed Oil deeply moisturizes, nourishes, and promotes a healthy glow. It contains essential vitamins, antioxidants, and minerals that protect and rejuvenate the skin, reducing fine lines and wrinkles while maintaining suppleness. Its similarity to our skin's natural oil allows for easy absorption without clogging pores or leaving a greasy residue. Ideal for sensitive skin, it moisturizes dry skin and balances oil levels in oily skin.
Sweet Almond Oil soothes, hydrates, and helps reduce the appearance of stretch marks, thanks to its richness in vitamin E.
Hibiscus Flower is a vitamin C and beta-carotene powerhouse, stimulating natural collagen production. It contains myricetin, an antioxidant that suppresses collagenase, preventing the degradation of collagen. This helps maintain skin firmness and structure. Hibiscus is also a natural source of AHAs, gently exfoliating and brightening the skin while promoting new cell turnover and reducing age spots.
Palmarosa Petal aids in balancing sebum production, resulting in a radiant complexion.
Wild Orange Blossom has tightening and firming properties, enhancing the skin's youthful appearance.
Top of Form
Bottom of Form
How to use
Massage over the body as you please. Golden Jojoba & Sweet Almond oils penetrate beautifully into the skins epidermis, swirling with natural gold, a happy hydrated non greasy result.
This gorgeous golden glowing oil combo can be used as a massage oil for an extra luxurious result!
Tilt bottle a few times before use.
For best results apply IbuBumi Sinar Mentari Glow Body Serum, followed by IbuBumi Golden Glow Body Oil.
Ingredients
Simmondsia Chinensis (Jojoba) Seed Oil, Prunus Amygdalus Dulcis (Sweet Almond) Oil, Ricinus Communis (Castor) Seed Oil, Hibiscus Sabdariffa, Cymbopon Martini (Palmarosa) Oil, Citrus Aurantium Dulcis (Wild Orange) Oil, CI 77019, C! 77891, Tin Oxide, CI 77491.